About 911 Restoration Miami Valley
Meet the Owners
Corrine and Mark Huey have co-owned 911 Restoration Miami Valley for 17 years, and been happily married for twice as long. "It really is a family business," smiles Corrine.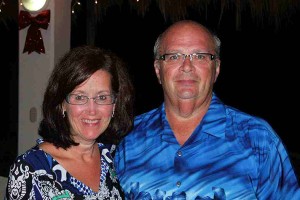 The couple started their own water damage restoration business after an awful experience with their homeowner's insurance company where their claim was denied coverage on a technicality.
"It was an early Sunday morning, and I was listening to supposedly soothing insurance company elevator music while my feet were soaking in toilet water," Mark recalls.
After the incident, Corrine took upon herself to learn the in-and-out of homeowner's insurance coverage, an expertise that her clients greatly appreciate: "homeowners need someone to be on their side when submitting their claim to adjusters. Using the correct terminology is key in getting your damage covered."
Despite having a team of experts, Mark and Corrine still attend to every job themselves. When you call 911 Restoration Miami Valley, you can expect same day service and first rate customer service.
"We don't just fix the damage, we make sure everything is going to be alright well after we pack up and leave."
Tips:
The majority of homeowners are ill-equipped to deal with their insurance adjuster after an emergency or natural disaster.
"Clients ask me to stick around to help them out with the adjuster all the time," Corrine says. "It's not just for morale support, they really need an expert."
Here are a few tips from Corrine:
Know exactly what your policy covers. Read the fine prints. The basement typically requires a supplemental policy.
Call and submit your claim after you know what is wrong. "Our damage didn't get covered because we used the wrong word," Corrine says. To avoid making the same mistake, call and talk to either Corrine or Mark.
Insurance does not cover mold. Water leaks are often followed by mold growth, which is not covered under insurance, to homeowners' surprise. After every mold remediation job, Mark always advises his clients to make sure their furniture is dry and mold-free before placing them back inside their home.
"I refuse to leave before I know everything is going to be alright."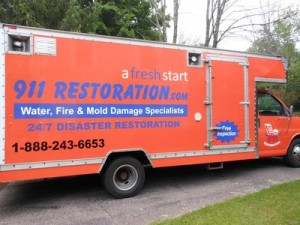 Most contractors think their job is over the minute they put all the equipment back on their truck. But that's not how Mark and Corrine run their business.
Corrine recounts the many instances where she had stood up for her clients.
"Insurance adjusters would refuse to talk while she was present," Mark explains, "but the homeowners wanted her to be there with them, so she never gave in to the adjuster's pressure."
That's what makes 911 Restoration of Miami Valley different from their competitors. Here it's all about family and "you take care of your family," the couple concludes.