Water Damage Restoration Dayton
When it comes to water damage restoration in Dayton, Corrine and Mark Huey of 911 Restoration Miami Valley have a personal story to share. "It's how we got into the business in the first place," Corrine says before passing it off to Mark who recalls the night his toilet overflowed and soaked the entire house including their basement!
After three weeks and $15,672 in restoration work which was not covered by insurance, Corrine and Mark realized that they were probably not the only homeowners affected by water damage but couldn't get it covered under their insurance policy.
"To help others avoid that feeling of being cheated, of not having any idea about where to go or who they could turn to for help, is why we started our own restoration business."
When you call (937) 246-5152 for water damage help, you will be getting a full package of services: from a free on-site inspection (available to homeowners only) to the highest level of professionalism and care.
"We walk you through both the restoration as well as the insurance claim process." Our technicians are not only bonded, licensed, and certified, but are equipped with the latest drying technology to quickly remove water from your home. Not only that, but we are affordable as well!
Does My Insurance Cover Water Damage Restoration?
According to the Insurance Information Institute, your water damage restoration bill should be covered by insurance unless a weather disaster was to blame.
In other words, if a violent rain storm damaged your home you would need a supplemental flood policy to cover the repair. However, if your appliance hoses rupture and your laundry room becomes swamped with gray water, your homeowner's insurance policy alone should be enough to cover the charges.
Being able to explain and guide her clients through the complex and often-time frustrating process of submitting an insurance claim is something Corrine Huey prides herself upon. When you call our team of experts from 911 Restoration Miami Valley, you can have peace of mind knowing that the very best in the business are working on your side to fill out your water damage claim accurately and recover every dollar ensured in your policy.
Our Promise as Water Damage Restoration Professionals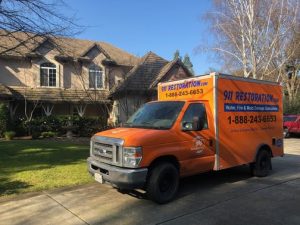 Because water damage requires immediate attention, 911 Restoration Miami Valley has made a promise to all of our customers to arrive within 45 minutes or less of receiving their call.
"I remember how it felt to have to wait for hours for help at 5am on a Sunday morning," Mark says. "We had to cancel Corrine's surprise birthday party that day, and we make it our goal to not let water damage get in the way of any other birthday parties!"
Most people think that only a major flooding disaster qualifies as a water damage emergency, but it is more a question of safety. If your toilet flooded your bathroom with black water which contains harmful microbes and feces, that qualifies as an emergency. In that scenario, section off the area to prevent young children from being exposed. Black water removal should only be handled by professionals with adequate protective gear.
Call Mark and Corrine Huey at 911 Restoration Miami Valley today, no matter what type of water damage problem you are facing, and we will offer you same day service. We take pride in offering our clients a comprehensive service package at every budget level, and sticking out for you when it comes time to speak to the insurance adjustor.
Have some doubts? Either call (937) 246-5152 or read about Corrine Huey and her experience in supporting customers with insurance issues. No matter when you call, at 7pm or 2am, we will take your call 24/7.
Serving the communities of Centerville, Kettering, Lebanon, Mason, Miamisburg, Springboro and surrounding area.