Mold Removal Dayton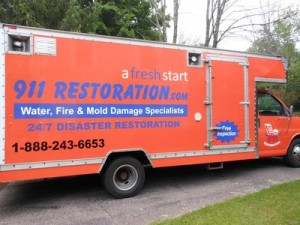 When you find mold in your home it requires immediate attention, and 911 Restoration Miami Valley is the company to call when you need fast and efficient mold removal. Branch owners Corinne and Mark know firsthand how important it is to have a helpful, cooperative company by your side, and they vow to make sure that all their customers are taken care of, no matter what the issue.
Our mold removal team is constantly proving to their customers just how dependable they are. The IICRC certified crew have been in the mold removal business for over 35 years, giving them a lot of experience with water damage and the impact that it has on mold infestation.
911 Restoration's mold removal pros understand the urgency that comes with a mold discovery. We know that when you call us, you want help as soon as you can get it, which is why we have our mold removal experts standing by, ready to be dispatched to your property within 45 minutes of your call.
We make ourselves available 24/7/365, so the mold removal pros can get to you anytime of the day. Please, do not hesitate to call if you are dealing with a mold emergency.
How Can Mold Affect Me and My Family?
Living with mold is not something that any homeowner wants to deal with, mainly because its appearance is off putting and it carries a distinct odor. Although those things are true, many people do not realize that living with mold is more damaging than just ruining the aesthetics of their home, it has the potential to impact their health as well.
There are many side effects that living with mold can cause, from itchy eyes, sneezing and coughing to asthma attacks and lung damage.
Mold has the ability to grow without being detected, especially in the dark, damp places you do not regularly see, like the attic or the basement. If you have experienced any type of flooding, leaks or other types of water damage, then your space may be even more susceptible to mold growth.
In order to minimize the amount of time that mold lives on your property, you should get your home checked out even if you do not suspect that you have it. 911 Restoration Miami Valley offers free visual mold inspections, so you can call on us to start the mold removal process.
Our mold removal technicians are licensed, bonded and insured, making them exceptionally prepared to take on any degree of mold. In order to keep your family healthy and safe, let us take care of your mold issues sooner than later.
With 911 Restoration, You Can Always Afford Mold Remediation

We never want you to feel like you can't afford to clear your home of mold, fungus and spores. In order to help with the financial aspect of mold removal, we offer affordable prices and guarantee to work with any of the major insurance companies.
We know that it can be difficult to understand the claim process at times, so in order to guarantee that everything goes smoothly, we have no problem communicating with the insurance companies on your behalf.
All we want is for you to have peace of mind knowing that our mold removal service agents have your back. Please call us so we can begin working on clearing your home of mold. We look forward to giving you a fresh start today.