Sewage Backup Cleanup Dayton
Eliminating the challenges that are inherent with a category three water exposure are tasks best left to specialists like 911 Restoration Miami Valley owners Corrine and Mark Huey, along with their sewage backup experts.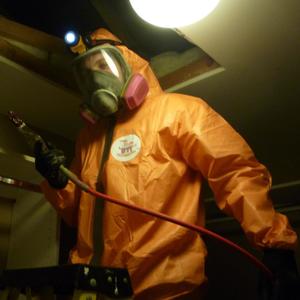 When a sewage backup situations arises, the damages that it causes can only be mitigated by quick and decisive actions, and this is why Mark and Corrine are capable of being at the scene within 45 minutes of an exposure situation taking place so that they can prevent the water from allowing mold growth to take hold.
"We make sure to get to the property immediately, and we are available to do so 24/7/365," Mark says. "That way even if a homeowner has a sewage backup in the middle of the night, we can be there to save the home from its effects."
Not only do Mark and Corrine have the capacity to be at the site of a sewage backup rapidly, but they will also bring the best suction tools and most advanced drying technology so that the home can make a speedy recovery.
"Sewage can be deadly if handled improperly and this is why we suggest to all home and business owners that they contact our specialists immediately if they have an exposure problem so that we can handle it safely for them," Corrine says.
If your home is already amid a sewage backup crisis and you want to protect your home, your family, and yourself with the best and most qualified restoration experts at your side, then contact Mark, Corrine, and the sewage backup specialists with 911 Restoration Miami Valley today!
Sewage Backup Prevention Procedures
Mark and Corrine have seen and solved all manner of sewage backup situations, and they have taken these experiences and used them to hone their skills and knowledge of what can happen during these times, but they are also true experts at preventing a sewage issue all together.
"Corrine and I field calls every day from concerned home and business owners who simply want to know what they can do to protect their homes from the damaging nature of a sewage backup situation," Mark says. "And this is why we have created a solid list of simple maintenance tasks that people can use to stay safe and keep their homes dry and smelling fresh all year long."
Check your pipes and plumbing system personally at least once a year or so to find any spots that are rusted or look corroded in any way. This will help to find any problem areas that may be the source for a future sewage backup if left unchecked.
Never flush items into the plumbing system that it was not meant to handle. This can include multi-ply paper in some systems, and hygiene supplies in most others.
Let a plumbing expert or a restoration specialist inspect your home every five to ten years for anything that might generate a sewage backup if not remedied.
Make sure that your sewage backflow valve is in perfect working condition to avoid a backup.
"This is not all of the ways that people can stay safe from a backup," Corrine says. "And if anyone has a question about something that isn't listed here, they should absolutely give us a call and find out the information they need to know."
If your home is already amid a sewage backup dilemma, then don't wait another minute for it to grow a mold contamination too. Contact Mark and Corrine, along with the sewage backup specialists with 911 Restoration Miami Valley for all the help you and your lovely home need!
Malfunctioning Plumbing Causes Sewage Backup
Mark and Corrine have been providing solutions to sewage backups for some time now, and in that time they have seen all different kinds of extremes that these situations can cause, and this is why when they got called out to a subfloor contamination they knew just what to do.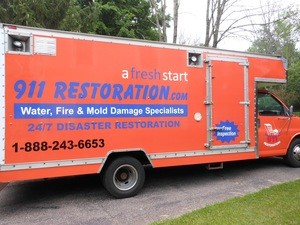 "We recently got a call from a homeowner who had a plumbing issue that ended up causing a backup into their home unexpectedly," Corrine said. "and when we got there we found the reason for it, which ended up being an insane plumbing fix from someone who had no idea what they were doing."
The poor knowledge that created this plumbing situation is a common source of sewage backup scenarios, and this is why Mark and Corrine, along with their sewage backup team out of Miami Valley are IICRC certified to handle any type of category three water contamination event.
"Not only do we remove dirty water from people's homes and businesses, but we also remove the stress that these scenarios can cause," Mark explains. "That means we will go above and beyond to provide our clients with the absolute best in restoration work and care. We will even fill out and file the insurance paperwork for our customers so they don't have to take on a sewage backup scenario at the same time as a conversation with their insurance agent too."
If your home is already filled with category three water from a sewage backup event, then don't let it linger too long and grow mold. Contact Mark, Corrine and the sewage backup specialists with 911 Restoration Miami Valley today!
Serving the communities of Centerville, Kettering, Lebanon, Mason, Miamisburg, Springboro and surrounding area.