Water Damage Kettering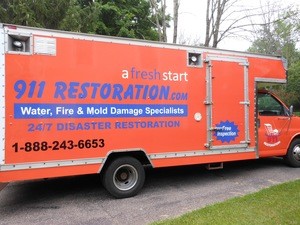 The licensed, bonded, and insured water remediation team at 911 Restoration Miami Valley wants you to know that if you are experiencing any type of difficulties then we will be there for you.
Available 24/7/365
Same-day service
45-minute response time
If you are unsure about the extent of the damage, trust in our free water damage estimate. We will be with you every step of the way, so give us a call.
Affordable Water Solutions
With 911 Restoration Miami Valley, water damage restoration work is always affordable. The way we keep costs low is by being effective and thorough. See, if water damage is not remediated the first time then it may quickly become too costly.
With our water damage team, every second is spent fixing underlying causes wile actively avoiding future damages. To elaborate, our technicians are IICRC certified, so that you can trust in their ability to do the restoration work correctly the first time.
For example, when it comes to flood damage, the most commonly occurring home incident, you want a team like us by your side. When we arrive to your house we bring everything we need to get restoration work done. Our technicians come in, assess the damage, explain to you the process, and then undergo restoration.
Pumping out or vacuuming standing water is the first thing any good disaster restoration company does. Standing water will continue to soak through the material it is pooling on, and that can set up a recipe for mold. For these reasons, we get to you fast.
After we remove any pools of water, we begin setting up dehumidifiers. This pulls the evaporating moisture out of the air, which increases the rate at which the room dries out. Once the space is dry we treat it with antibacterial solutions. This will guarantee the homeowner that no fungus will grow later.
If you are in need of knowledgeable team that knows how to get you back after experiencing a flood, or any type of water damage, then call the water repair team at 911 Restoration Miami Valley.
Top Down Inspection for Water Protection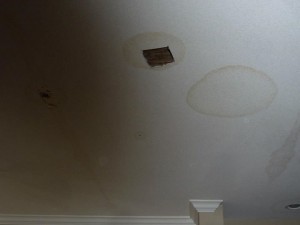 911 Restoration Miami Valley truly cares about your wellbeing. We are here to help you overcome any home accident, but we also want to make sure that you never experience disaster as well. The water damage restoration team has come up with a list of things you should inspect in your home as to prevent headaches in the future.
Inspect shingles for any signs of damage in the summer
During the rainy season see if you notice any leaks
Clean gutters and make sure they are not pooling water
When it rains see if the run off is clearing past your home, and not stagnating near it.
From your roof, to the gutters, and your down spout, they all work in unison in order to safely lead water out of the home, as not to ruin the integrity of the building material. When one of these units fail, then it can spell out trouble for a homeowner.
Therefore, besides telling you what signs to look out for, we also want to give you more information as to better help you. Installing gutter guards on your home will mean that any type of leaf litter or debris does not fall through your water draining system. Instead, it sits on top, making it really easy to remove. Now when it comes to downspouts, we recommend facing them away from your home, and then adding more funneling if it is not clearing water far enough.
We hope that you stay dry all year long, but if an accident happens, then know we are by your side. Call the water damage Miami Valley team at 911 Restoration, today.