Disaster Restoration Dayton
No matter what form of disaster occurs, be it a tornado event, fire outbreak or even a local flooding situation, 911 Restoration Miami Valley owners Corrine and Mark Huey, along with their disaster restoration team can handle it with ease and at an exceptional value too.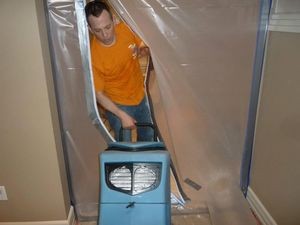 When it comes to disasters of all shapes and sizes, speed is the key to limiting the amount of damage that the situation can cause, and this is why Mark and Corrine, and their disaster restoration experts will arrive within 45 minutes of a call for help to provide all the best restoration services.
"We are also available 24/7/365 through our call center and our support teams on the ground," Mark explains. "We can be anywhere, and we can solve any kind of disaster that unfold in real time too."
When Mark and Corrine take on a disaster project, they do so with all of the latest and most advanced technology and equipment such as professional grade air movers, dehumidifiers, and even vacuum trucks and heaters to completely dehydrate any supersaturated area quickly.
"We've got all the tools, but more importantly, we have the skills to know how to use them, and when to use them for the greatest effect," Corrine says.
If your home is already experiencing a disaster of some kind, then don't wait for it to grow with stagnation and hesitation. Contact Mark, Corrine and the disaster restoration specialists with 911 Restoration Miami Valley today!
Disaster Prevention Tips and Tricks
Mark and Corrine are absolute professionals when it comes to abating the effects that a disaster can cause, but they are also specialists at helping people to prevent them from happening at all too.
"Most people don't realize that many forms of disasters are preventable with the proper knowledge," Mark explains. "That is why we have created a list of ways that people can stay safe no matter what kind of disaster arises."
Make sure to trim the trees around your property that threaten to hit your home with broken branches in high wind, or heavy snow. This will help to make sure that you don't experience any roofing problems from falling debris.
It may seem like less of a disaster, but it is crucial to clean out gutters and downspouts every year to avoid ice dams which can be a complete disaster to your roof line if not properly taken care of by restoration professionals.
When heavy rain and severe storms arise, it is critical that people ensure their downspouts are directed away from the home's foundation to avoid liquefaction which can inundate and supersaturate foundations which can undermine the structural integrity of the property.
Have a restoration professional inspect your roof for any damaged or missing shingles that may allow water inside your home if the weather picks up in a tornado situation or the like.
"This is by no means a complete list of the ways that homeowners can protect their property," Corrine says. "So if there is anything that people are wondering about that they'd like to find more on, then they should contact us immediately for help."
If your home is already experiencing a local flood, the aftereffects of a tornado, fire or any other form of disaster, then contact Mark, Corrine and the disaster restoration experts with 911 Restoration Miami Valley today!
Going the Distance for Disaster Situations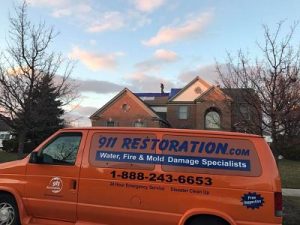 When it comes to helping people through the effects of a disaster, be it a tornado, pipe burst, severe storm, or even a flooding crisis, its best to trust in the expertise and field-based knowledge of Mark, Corrine and their disaster restoration team with 911 Restoration Miami Valley.
"We went out to a job recently where the rain had picked up the night before and created a flood that affected a whole street of homes," Mark says. "We got calls from at least half of the people on the street for help."
Mark and Corrine, worked day and night to take care of everyone and the flooding water damage that took place in their home the night before.
"We did mass water extractions, mass dry outs, and mass restorations when it came to eliminating soaked drywall and saturated building materials," Corrine says. "We didn't stop until people were able to use their homes again, and then we made sure to help everyone we worked with on their insurance paperwork too so that they wouldn't have to deal with that at the same time as the damages in their home."
If your lovely home or business is experiencing a water damage problem from a local flood, or any other kind of disaster, then call Mark, Corrine and the disaster restoration experts with 911 Restoration Miami Valley today and let them take care of everything for you immediately!
Serving the communities of Centerville, Kettering, Lebanon, Mason, Miamisburg, Springboro and surrounding area.