Water Damage Lebanon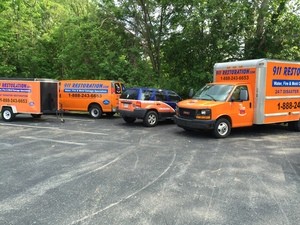 Lebanon residents, if you are experiencing water damage then fret not because 911 Restoration of Miami Valley is here for you. The licensed, bonded, and insured team here is:
Available 24/7/365
Same day service for all emergencies
45-minute response
Has affordable solutions
The remediation team is here to support you through all your water related accidents. We believe in second chances and getting people to the fresh start they deserve. Everything is going to get better, and it is going to happen fast. Do not let an accident rob you of your peace of mind. The water damage Lebanon team will restore order back into your life.
Pick up the phone and call now.
Preventing Lasting Water Damages with Expertise
Water damage needs to be addressed immediately or else it can lead to lasting complications. What makes a water accident complicatesd is that water will spill into whatever it may can, and sometimes it can occur surreptitiously. For example, if a pipe burst in your basement, then the water can sift and absorb into the ground, or in a corner. When this happens then the space becomes at risk for mold.
For these reasons, you should call our team as soon as possible. We are available all year long, day and night. Our expert technicians are IICRC certified and have years of experience. Therefore, they have the skills and knowledge to perform the simplest water removal, or the most complicated drying process.
Because they are so familiar with the industry, you get the type of care that has proved itself many times over. They remove water fast, and dry the space efficiently. The first thing we do in every job is track all the moisture using infrared cameras. They allow us to non-invasively look for water, so that not a second is wasted. After than we set up industry-grade dehumidifiers to suck moisture from the air. This means evaporation of any soaked material increases, which water gets removed even quicker.
The faster water is remediated the less it costs a homeowner. If you need a water damage restoration company that cares about you then call 911 Restoration Miami Valley. Our water damage Lebanon team will be out there fast.
All Inclusive Water Repair Solutions
The experts at 911 Restoration can handle every aspect of home repair because we have seen it all. The rudimentary skills and tricks we have picked up maks us more than qualified to handle mold remediation, sewage backup, and fire damage restoration.
See, the one thing all these accidents have in common is the need for water repair, microbial treatment, and stain removal. These are all services we offer because they are within the scope needed to bring homeowners a fresh start.
The fresh start is our promise that you will return home to something beautiful. A home disaster does not have to be the end, and therefore the water damage Lebanon team cannot wait to provide you with a second chance the moment you need it.
We believe in health for everyone, and that in order to see a difference then we need to be different. We communicate with homeowners every step of the way, and in our free water damage estimate you are given a restoration plan that is sensible. Positive professionalism is what we are all about.
If you are in need of a fresh start, then call us at 911 Restoration Miami Valley.