Fire Damage Restoration Dayton
The challenges presented by a house or storefront fire are immense and that is why they require the immense talent, expertise, and fortitude of 911 Restoration Miami Valley owners Corrine and Mark Huey, and their specialist fire damage restoration professionals.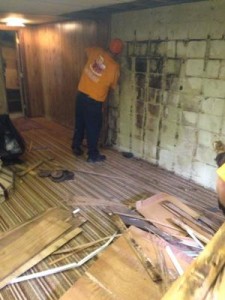 When it comes to fire damage restoration repairs, Mark and Corrine know that fast action saves homes, and this is why they are ready to respond 24/7/365 to any kind of disaster, but especially fires and their aftermath.
"We are also capable of arriving within 45 minutes in order to start the healing process for the home," Mark says. "That way we can mitigate the damage that the fire, and the water used to put it out caused."
Mark and Corrine know that these situations can be extremely stressful for people and that is why they endeavor to not only remove the damage that fires can cause, but also the stress that results from these situations.
"We never want a homeowner or store owner to worry about how their home will look after the repairs, or how much it will cost, or anything we can help with," Corrine says. "That is why we will even help people to file the insurance company claims forms so that we can take as much off the plate of our clients as we can for them."
If your home has already had a house fire, and you want the best in the business to abate its effects, then contact Mark, Corrine, and the fire damage restoration professionals with 911 Restoration Miami Valley today!
What to Expect After a House Fire
Corrine and Mark have seen and solved fire damage restoration challenges for a long time, and with this expertise they know all there is to about what people can expect after a fire takes place in their home.
"People don't realize that most often when they have a house fire and the fire department puts it out, that they will likely have water damage and potentially even a mold contamination problem afterwards," Corrine says. "This is because when the fire station puts out the blaze, they tend to use lots of water to do so and that has to go somewhere, and often that is into the floors, walls, and the support structure of the home."
Additional damages can result from acidic smoke spreading to other areas of the home unaffected by the fire through the ventilation system.
The odor that a fire can cause has the ability to linger for weeks afterwards if not properly taken care of by fire damage restoration specialists.
Water from putting out the fire can seep into the wood and drywall inside other areas of the home from the pooling that tends to happen, and this can engender mold growth if not dealt with quickly.
Fire travels quickly, and even if the fire started in your kitchen and was put out immediately, it can still have massive damaging effects on the floors above it.
"There are so many ways that a fire can affect a home or business that people wouldn't even think of, and that is why they must use a fire damage restoration professional to have these effects abated properly so that they don't have to deal with them again," Mark explains.
If your home or business has been through a fire event and you want the damages taken care of by the best in the industry, then contact Mark, Corrine, and the fire damage restoration team from 911 Restoration Miami Valley today!
Going Above and Beyond for Fire Damage Restoration Affected Homeowners
Mark and Corrine are homeowners themselves and this is why they know that the stress a fire damage event can cause can be immense and when they take on one of these jobs they do everything in their power to make the situation as easy for the homeowners to get past and through as possible.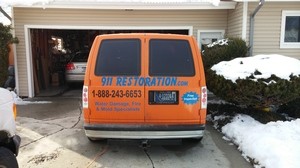 "We make sure that if they don't have someplace to stay, that we find them affordable housing until their home is back to normal," Corrine says. "We even help out with the insurance paperwork in these situations so that people don't have this task on their plate to deal with as well."
Mark and Corrine know that to give people the best restoration experience possible after a house fire is to be there with all the latest technology and equipment so that there is nothing they can't take care of on site.
"We are completely mobilized with all of the tools and techniques that we will need after any kind of house or storefront fire event," Mark explains. "and since we provide same day service, we can start the home healing process extremely quickly and efficiently."
If your home or business has just been through a fire damage situation and you want it completely restored to the point at which you can't even recognize that anything has happened, then contact Mark, Corrine and the fire damage restoration team with 911 Restoration Mimi Valley today!