Water Damage Dayton
911 Restoration Miami Valley
After floodwater has infiltrated your household, you can call our water damage Dayton techs at 911 Restoration of Miami Valley and our experts will begin same day services to get your home cleared of any trace of water.
You can get our water damage Dayton experts to your home within 45 minutes no matter what time you call our professionals.
Our water damage Dayton professionals are available 24/7/365, including all holidays, because we understand that water emergencies can occur any time.
Service area map
Weather Alert: If you are experiencing weather-related damage from the storm, call us today for emergency assistance!
At 911 Restoration of Miami Valley, we offer a Fresh Start with our comprehensive selection of property damage restoration services, including but not limited to:
Remediation of all water damage

Black water cleanup

Fungi and mold infestation decontamination

Mildew deodorization

Deodorization services

Water extraction and drying

Toilet overflow sanitization

Mold spore testing services

Cleanup of tar and ash residue

Smoke stain cleanup and odor removal

Overall comprehensive disaster restoration
Whether you're a Miami Valley homeowner or business owner, 911 Restoration of Miami Valley is your Fresh Start! We'll communicate with you throughout the entire process, help answer questions related to insurance, and restore your property to its pre-damaged condition. One of our IICRC-certified teams is dispatched within 45 minutes of your call! Contact us today, and one of our friendly representatives will assist you in finding the nearest Miami Valley location.
Sherry M.
"I would give them 6 stars if I could. I had to deal with a flood in my business, an absolute nightmare for every business owner. [911 Restoration] came right away, and they are so professional and efficient. Even after everything was done they followed up and made sure everything was back to normal. A+ customer service. Thank you!"
Water Damage Restoration
There are specific things most business and homeowners know they can do to prevent flooding in their home, and our water damage restoration Dayton techs know that a lot of the time the crawl space is overlooked.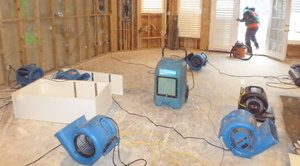 Our experts want you to know that if you have a home with a ventilated crawl space then it is best to seal it off before the cold months begin in order to protect your pipes.
Our water damage restoration Dayton professionals recommend that you use industrial strength cardboard and duct tape to cover the vents and access to the crawl space, because we know that this will act as a shield against cold winds.
Our staff also wants you to check your basement for cracks in the windows that might let cold air touch the pipes and inspect the insulation to make sure none of it is missing or damaged. Our water damage restoration Dayton technicians want you to do anything you can do to reduce the amount of cold air that can have access to your plumbing will help stop freezing and subsequent pipe bursts. 
Call us if you have any concerns about your plumbing or preexisting flood damage and our water damage restoration Dayton specialists will do whatever it takes to mitigate the situation.
Mold Removal
Homes are damaged by water more than anything else, which is why our mold removal Dayton experts know that persistent leaks need to be fixed right away in order to prevent long term damage such as mold and mildew.
When our mold removal Dayton professionals fixe a leak quickly after it begins, then it may be possible for our team to prevent damage all together.
Our staff will check all the out of sight places in your home or business to ensure that we catch all instances of water damage in order to stop all chances of mold from forming.
Our mold removal Dayton technicians will also annually inspect the roof and make sure to fix any leaks the moment you find them, because water will cause mold in the cabinet under your sinks, as well as seep into the floor underneath.
So, call us if your home shows any signs of leakage and our mold removal Dayton specialists will fix the problem immediately.
Sewage Backup Cleanup
When your toilet overflows it is important to immediately call our sewage backup cleanup Dayton experts and we will act quickly to get the substance out of the household, limiting any health issues it might impose on anyone living in the home.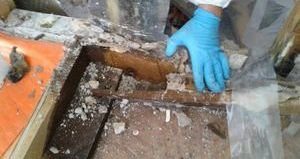 Our sewage backup cleanup Dayton members understand that most business and homeowners may not be aware that sewage, also known as black water, can affect your health.
Black water can be filled with toxins and human waste, which you should stay away from at all costs, keeping in mind to create a barrier that will keep children and pets away from the sewage, as well.
Our sewage backup cleanup Dayton team is qualified to remediate all types of sewage overflows, and will use eco-friendly cleaning agents that will get your home completely decontaminated.
You can trust that our staff are meticulous with their work, so when you hire our sewage backup cleanup Dayton technicians you can rest assured that every trace of sewage will be removed and the area will be completely sanitized.
It is the main priority of our sewage backup cleanup Dayton agents to keep you and your family protected against the effects of sewage, so call us today.
Fire Damage Restoration
Smoke and fire damage can leave your home or business in a state of disarray that can only be repaired by our fire damage restoration Dayton professionals.
When the fire department puts out the flames with their fire hoses, it can leave extensive water damage inside the property, on top of everything else.
Fortunately, our fire damage restoration Dayton technicians are trained to handle every aspect of the fire cleanup, from removing smoke stains and odor to mitigating any flood damage.
We know how overwhelming a fire disaster can feel, and our fire damage restoration Dayton techs are sensitive to that, so when we are hired for the job, we will do whatever it takes to get your property back up and running as quickly as possible.
Disaster Restoration
Once the help of our disaster restoration Dayton specialists arrive and water is successfully being pumped out of your home or business, the reality of the bill sets in.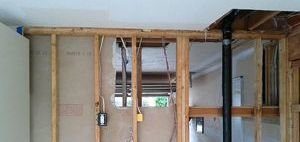 Our disaster restoration Dayton pros understand that this can be an overwhelming realization, but our crew is here to make it as easy as possible.
You can count on our disaster restoration Dayton unit to consistently offer affordable prices on all of our flood and leak disaster remediation services, no matter how big or small the circumstances may be.
On top of keeping costs low, our operation also work with all insurance companies. In fact, our disaster restoration Dayton workers are so comfortable working with insurance providers that we will file your entire claim for you.
Call our disaster restoration Dayton techs today to keep your out of pocket expenses low and get the service you need from our experts.
Serving the communities of Centerville, Kettering, Lebanon, Mason, Miamisburg, Springboro and surrounding area.