Water Damage Mason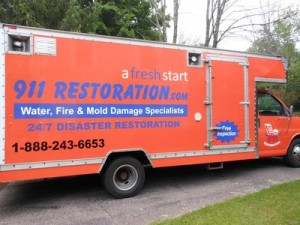 When water damage strikes, there may be consequences for your home that requires the attention of professionals at 911 Restoration of Miami Valley. The water damage Mason team knows how to secure a home, and a family, in the midst of a water damage situation, providing both comfort and professionalism to the homeowner.
With 35 years of experience behind them, the water damage Mason crew understands how to handle any emergency. They know the urgency that water damage creates, and they vow to be at your home within 45 minutes of your call.
Our timeliness allows us to quickly tend to the problem and helps us prevent further water damage. Being a licensed, bonded and insured company gives the water damage Mason technicians the credibility they need to give their customer's peace of mind that they can successfully do the job.
If you need reliable water damage cleanup, then call the water damage Mason pros today, so they can give you and your family a fresh start!
Let Us Reconstruct Your Home and Your Life

The water damage Mason experts are IICRC certified, making them exceptionally well-trained in home restoration. 911 Restoration of Miami Valley is very dedicated to making sure that their customers get the best service possible, which is the reason they hold all their branches to such high standards.
We want to be there for you in your time of need, so we are opened 24/7/365 in order to take your calls anytime, day or night. Keeping our lines constantly open allows us to better service your home, arriving to the scene as soon as possible, preventing further water damage.
One customer experienced this type of service when he called the water damage Mason staff in the middle of the night urgently needing assistance with his kitchen. He was awoken by a strange sound, and followed it to the kitchen area.
Stepping onto a drenched floor before switching on the light, the homeowner immediately could feel that something was wrong in the room. He then discovered a few inches of standing water covering the entire kitchen floor, overflowing into the carpeted den.
The customer was able to get water damage Mason operatives to his home in under an hour, quelling the customer's nerves and reassuring him that they would get his kitchen looking more beautiful than ever with once they were through with it.
Don't Let Your Finances Get in the Way of Your Water Damage Repair
When the water damage Mason service agents arrive at your property, they will first give you a free water damage estimate. This means that they will inspect the water damage and tell you how much it is going to cost to repair it, all for no charge.
The water damage Mason professionals do this to ensure that no one ever feels like they can't afford to get their water damage checked out. This is just another way we make sure that you know that we put you first.
In order to save you the most money we can, the water damage Mason reps will talk to your insurance company for you, going step by step through all the paperwork. We take all major insurance providers, so you can rest easy knowing that we have you covered.
Let us help you through this process and rebuild your dream home. Call us today!